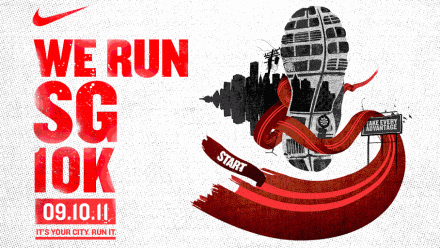 Today was the Nike We Run SG 10K event, the one which 12,000 slots were fully registered within two days of registration opening. Quite a few of my friends were exclaiming that they didn't get to register in time for the race. Well… For Nike running events in Singapore, you can't really mull over the registration, you gotta decide fast.
The race expo was last weekend over at Orchard Central. Reach there around 7pm sharp and boy, was there a long queue already. The race pack was quite sparse, a race tee (that's what most people signed up for), a race tag, a Nike water bottle and an event info sheet.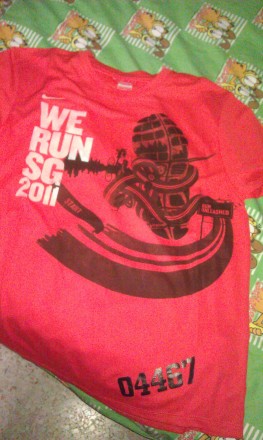 Fast forward to today's race. Well… It didn't really get off to a very good start… Early in the morning, SMRT had a delay in their service… I waited for quite a while at Lakeside for the east-bound train and it didn't arrive till 6:10am… And after Jurong East Station, the train was like a weekday peak hour train, packed to the brim… Was suppose to meet up with my friend Kenny at Southbank@Lavender to put all the barang-barang in his car before heading to the race village… But due to the train delay, had to meet him straight at the race village…
Not sure if it was due to the train delay that there was a huge crowd moving off at Kallang station, but it seems like that event was ill-equipped to handle large crowds… There were many chokepoints and funnelling of crowds… Especially bad was at the entrance into the race village and the path towards the starting pen. Why would you funnel a large crowd into a small pathway? I don't quite understand on that…
The run itself was quite pleasant. Large crowds, but the paths were wide, spacious and well, proper paths. Unlike a certain run where there were funneling of crowds, mixture of paths and trails, dimly lit paths… (*cough*AHM*cough*) Lots of overtaking within tight spaces, due to the large crowd and I believe also due to people not really prepared for the run.
This year's finisher's item is a Keychain/Flashdrive. At first I thought it was just a normal keychain (cheapskate!), until Kenny told me that it's a flashdrive too! Well… It's only 2GB, but still much more useful than a just a keychain.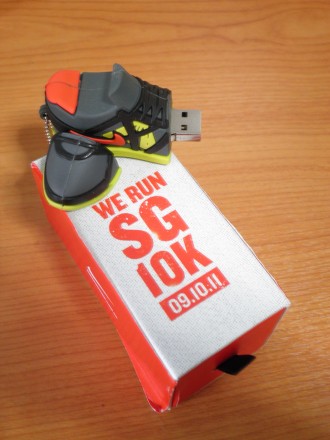 All the usual stuff at the Finishing Point/Race Village, 100Plus, Ice Mountain (mineral water), banana, massage points (Salon Plus mostly…) and in addition, ice cream! Not sure if eating ice cream after a run is a good idea… Didn't queue for it, too long…
Headed down to Southbank@Lavender for a swim and jacuzzi after the run. Man, it was awesome! The view, the swim and the jacuzzi itself. The water jet was just nice~ A good water jet massage after a run, hah.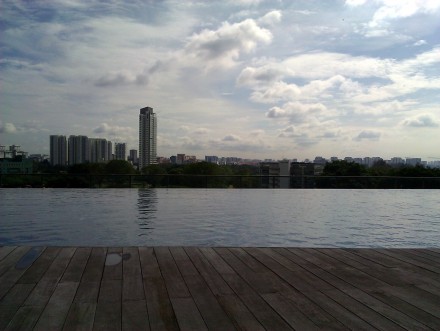 My next run will be the Newton 2011 Run. 30KM… Oh shit…